There's a Better Way To Learn Project Controls
Plan Academy, an online training company, produces and delivers online, on-demand training on Project Controls, software like Oracle Primavera P6 Professional and related applications for the project controls community. Plan Academy shares project controls advice and Primavera P6 tutorials on our blog. Plan Academy's online training platform teaches students to build schedules from scratch using Oracle Primavera P6 software on a customized learning management system using professional videos, step-by-step tutorials and other rich media content.
Our Story
Plan Academy began life back in 2011 as the Planner's Tutorial Hub (PlannerTuts for short). Working as a Primavera P6 trainer for a number of years, I found there were gotchas in Primavera P6 that most people stumbled on and the workarounds needed to be shared. So I started a blog.
My first few Primavera P6 tutorial blog posts exemplify a lot of what we still strive to do today – make project controls simple (you can still see them).
Those early blog posts were some of the first on the internet that focused on Primavera P6. And people were reading them, and finding them valuable (check the comments). There were hungry people out there starving to understand the nuances of Oracle's P6 software and to know the solutions and workarounds to their Primavera P6 problems.
In February 2013, Plan Academy launched its first training product (then, PlannerTuts Premium), a series of written tutorials on various Primavera P6 topics. Quickly, PlannerTuts Premium evolved to focus on developing video training on Primavera P6 products. We invited trainers and experts from around the world to contribute to our training as well.
In April 2015, PlannerTuts was rebranded as Plan Academy, a name that truly captures our core purpose: "To help drive excellence in project controls through content that educates, informs and inspires."
Plan Academy Leadership Team

Michael Lepage, Chief Learning Officer
Michael is the Founder of Plan Academy, and leads the day-to-day operations. A longtime expert in project controls, Michael loves to train, lead live events & record training videos.
When he isn't recording video tutorials or looking for lag in a Primavera P6 schedule, he's probably chasing after his 2 boys or strumming his guitar. Fav team: Toronto Raptors
Evan Wakelin, Video Producer
Evan joined Plan Academy in April 2019 as our master of all things video. Having gone to film school, Evan spends his time either behind the camera or making amazing animations with Adobe tools.
Evan loves playing hockey in all its forms, he's a film buff and a big Christopher Nolan fan and he loves hanging out with his wife and 2 sons.
Rama Al Jaber, Marketing Manager
Rama joined Plan Academy in 2021 as our Marketing Manager. She is passionate about inbound marketing and loves to experiment with new projects, tools, and campaigns with a dramatic flair. Rama had previously worked in the space industry but she has decided to come back to Earth.
If she isn't tinkering with our website or reporting some important analytics, she is in the gym lifting some serious weight. Unlike Evan, she has never watched a single Christopher Nolan movie.
Renée Wheeler, Customer Success Manager
Renée is Plan Academy's Customer Success Manager, and she ensures the Plan Academy experience is a pleasant one for everyone. Renée loves to reach out to our students and to work on ways we can continuously improve our community and learning programs.
Renée loves to play video games and paint in her spare time, and spends most weekends curled up with a good book.
Gowtham Sunderarajan, Student Support
Gowtham is Plan Academy's resident marker. He reviews and provides feedback on every student workshop submission. He's also a project controller working with large comapanies & schedules.
Gowtham lives in Chennai, India.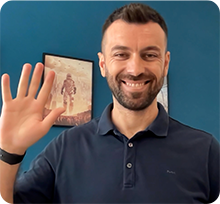 Agli Pançi, Developer
Agli is Plan Academy's backend developer. A native of Albania and an expert in many development technologies, Agli's code is super-sweet.
When he's not coding Agli likes to spend his time reading and traveling.
Todd Low, Developer
Todd is Plan Academy's front-end developer. He focuses on building modern web apps that use a variety of technologies including PHP, JavaScript, CSS, and Ajax.
On his own time, you'll find him playing guitar and spending time outdoors. Todd lives in Florida.