In this post, I'm doing a complete review of ScheduleReader.
When it first launched, ScheduleReader was formerly known as PrimaveraReader an XER viewer that was an intriguing alternative to importing .xer files in your database to view the contents. But the tool was a bit too new to do a deep dive. Now, having a few releases under its belt (currently version 6.1), I'm convinced ScheduleReader is a tool that will become essential to any company using Primavera P6 or working with other companies that do.
In October of 2018, PrimaveraReader released version 6.0 and at that time it was also re-branded as ScheduleReader.
Here's why.
If you manage your construction & engineering projects with Primavera P6 Professional Project Management, you know how expensive it can be to get everyone on your team a full working license. Primavera P6 Professional licenses cost approximately $2500 USD each and if you need a bunch for your project team, the cost is going to set you back.
And maybe you don't need your whole team trained-up and becoming experts on Primavera P6 (we can help you if you do). But you DO want to share your Primavera P6 project information with the team, whatever their roles might be.
Oracle says they have tools for you to accomplish this. Primavera P6 EPPM web and its addons like Primavera TeamMember or the TeamMember mobile app were designed to share project information with a team. Sure, but this solution is expensive and it's not for those who aren't willing to invest significant time, money and energy into the full Primavera P6 web suite. What if you just want to stick with Primavera P6 Professional?
Enter ScheduleReader – an easy-to-use project viewer that lets you view, print, and analyze Primavera P6 .xer and .xls files. I've explained the challenges of importing .xer files to your Primavera P6 database before but there's no denying that passing project information back and forth with .xer files isn't going to stop anytime soon. But now, you can see what's inside an .xer file, letting you decide if you need to import it or not to your database.
On top of that, using a viewer application makes Primavera P6 data more accessible to your team. A project team member can now receive an .xer file, open it and get a full understanding of the project without the need to log into Primavera P6 at all.
At Plan Academy, we've adopted ScheduleReader to help us review assignments and homework submitted to us by our members, something that we do as part of our training curriculum. The tool has saved us countless hours in our marking of assignments because it's so fast.
ScheduleReader runs on Windows. The pricing is in everyone's range at $349 USD for single license, or $449 USD for the Pro version and volume pricing is available as well (talk to us). You can try the full version ScheduleReader out with a 15 day trial downloadable here.
With that, let's take a closer look at how ScheduleReader holds up, what makes it unique and how I've been using it.
Here's my review of ScheduleReader, formerly PrimaveraReader.
ScheduleReader Feels A Lot Like Primavera P6, But Faster
One of the biggest reasons I like ScheduleReader is how easy and quick is it to open .xer files. This might seem trivial to some, but anyone who's had issues with .xer files taking minutes to import (some have reported hours) will also appreciate this fact. With 2 clicks, I'm into the file and viewing the Activity Table. Check out my comparison video to see what I'm talking about.
The interface looks very similar to Primavera P6 Professional's, but also much like that of a Microsoft Office app. Tabs at the top of the screen are aligned with P6's most-used screens – Activities, WBS, Projects, Resources, Assignments, etc. Many of buttons match P6 and the interface is clean and easy to get around; you won't have trouble stumbling around here. The Gantt chart looks a bit more like Microsoft Project, but all of the configuration screens match P6 pretty closely.
Opening a file is like any other windows program; File > Open and you're there. ScheduleReader will open both Primavera P6 Professional .xer file as well as Excel .xls files which contain P6 data exported from P6.
Once the file is open, you have some abilities to customize what you see. You can pick the columns to display through a familiar P6-like screen. Sorting columns works exactly as in P6 and you can collapse to any WBS level you like.
ScheduleReader Has Layouts Too
Primavera P6 has a heavy focus on screen Layouts, and ScheduleReader has followed suit. (I think these layouts are invaluable!) The software has built-in common layouts like "Grouped by Start – Monthly" or "Activity Status Layout" where the grouping of the activities is the focus. You can quickly choose a built-in layout from the dropdown on-screen, which makes accessing layouts even easier than in P6.
You can't create or manage layouts, but a welcome feature is ScheduleReader's ability to import layouts from Primavera P6 Professional via .plf files. So you can essentially use your Primavera layouts without much fuss.
Other features include activity filtering, search, and even the same User Preferences to display Durations and Units in days or hours and dates with or without the clock.
Comparing to Baselines Inside ScheduleReader
To be a useful solution, just viewing an .xer file isn't enough. To get a the full picture of the project, you'll want to have your project's baseline available to compare to, and it turns out that it's not a problem. In a recent release, the developers added the ability to import and display baseline project data as well, so you can do the comparison.
You can import a baseline via an .xer file and then set the baseline to the project in the same way you would in Primavera P6. That means you can import and compare to 4 baselines just like in P6. Once the baseline file is imported, you'll see baseline bars and milestones on the Gantt Chart. Baseline columns are also available in the activity list. This baseline feature is vital to making the tool a complete viewing solution and not just a partial one.
Progress Update Assist Has The Right Idea
A new feature in release 3.5 is Progress Update Mode. Aimed at teams that want to be able to provide progress information for the project update cycle, a new Progress Update Mode uses ScheduleReader and Excel to update P6. Here's how it works.
Once you enable Progress Update Mode, you'll be able to pretend to status activities inside ScheduleReader. Update-able fields will become available with options and date pickers. You can perform your update as though actually doing it in Primavera P6. Once you're done, clicking "Save" will generate an Excel file (in the proper format) containing the updated project information. You can then import the Excel update into Primavera P6 to finally update your schedule.
It's a neat trick. And it could potentially change the way companies drive updates to their schedules, and help them save thousands on Primavera P6 licenses.
You can see the entire end-to-end update process in action in this video.
What Else Can I Do With ScheduleReader?
I mentioned before that we use ScheduleReader to help us review our member's training assignments, which equate to about 100 assignments to review per month. It has certainly helped us streamline our review and marking process, mainly because of the speed. But as we work with the tool more, I've discovered a few more tasks that it's good for.
Determine the .xer file version (P6 version): Since Oracle updates and changes the .xer file structure with every release, you never know what version you might have. Open it in ScheduleReader and check. Simple.
Audit Global Data in an .xer file: I recently wrote up a long explanation on how to use ScheduleReader to do this, and why you would want to.
Print A Schedule: It needs work to make it easier, but you can print a schedule from ScheduleReader.
What ScheduleReader Still Needs
Ok. I'm a fan. But there's still work to be done to fill in some much needed gaps.
Printing schedules in ScheduleReader isn't any easier or less convoluted than it is in Primavera P6. Printing options should definitely include a PDF option. There needs to be an easy and intuitive way to get the Gantt chart timescale to print in a coherent and readable way. Too often the default print view is one that prints 100 pages of unreadable Gantt Chart snippets. What if you hit Print and the software figured out the best settings for you? If the developers can figure that out, I could see users purchasing ScheduleReader just for the printing features!
Custom filtering is missing. You can't yet build your own lookahead filter, something that's too important to day-to-day users to leave out. Custom filtering is powerful in P6 and it should be here as well. Also, grouping options are very limited and need to be expanded on as well.
I'd like to see support for Primavera P6 .xml files as well. Although the .xer file is uber popular, the lack of forward compatibility with new versions of P6 is such a pain that it should be abandoned for the more versatile .xml. Primavera P6 EPPM only supports .xml and that might be another reason ScheduleReader should support it as well.
Support For Mobile Apps Is Still Expanding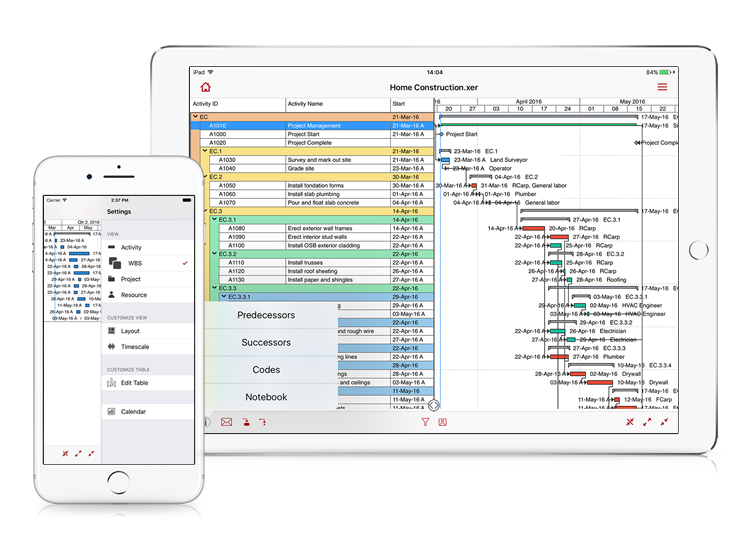 I haven't yet mentioned that ScheduleReader also has just launched an iOS app making it easy to take your schedule with you out to the work site. The app team has done a great job designing an interface that works for mobile. The app works very well on my iPhone 5s. Currently the app supports reading files hosted in iCloud or One Drive for business. I'm sure this list will expand soon. And I've heard there are plans for an Android version in the works.
The ScheduleReader mobile app has a subscription model and runs about $13 / month or $104 / year which seems reasonable to me.
After reading this review of ScheduleReader, if you're even remotely interested, I recommend just giving it a spin. You can download it here. ScheduleReader is simple to install and the trial offers you a full version for 15 days.
I think ScheduleReader  is a tool that we didn't know we really needed. It makes my life a lot easier and simplifies dealing with .xer files. ScheduleReader has come a long way in a short time, and I'm exciting to see what the development team is going to offer up next.
What are you first impressions of ScheduleReader? Let me know in the comments.